There is always a difference between life and survival!
| | |
| --- | --- |
| | Nowhere is it as clear as in Don Raffo's world. It starts with some "funny" little things. You come into a double cell, in which there is an outhouse, with two folding boards in front as a mega "privacy screen". There is also a bunk bed, one is at the bottom and the other at the top. If you have to poop, the "privacy screen" is of little use, because your roommate can easily look over it. Not even to speak of the normal "fragrance note". You have to somehow get a grip on your pubic threshold, because what has to be done. The next problem is the flush, it is behind you and you have to press it on everything that comes out at the back. The art of this acrobatics is not to fall into the outhouse. Conclusion, don't get bent, fight your way through or you'll never be the way you were. You can find out how something like this works and much more in the Don Raffo season trilogy! |

Information with just one Click

Play with just one Click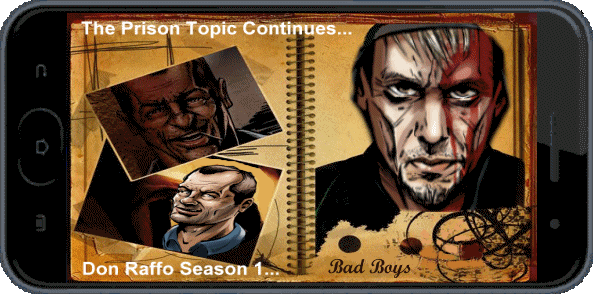 The new "heroes" drawn in marvel style coined the term "Reality Comic". They pave the way for a new, extraordinarily exciting, lively and humorous genre in the German-speaking and international comic scene. The honest and weird experiences of Don Raffo and the other likeable slit ears are captivating and fascinating. Everything is based on real experiences of the author (King George, the kitchen boss).

Issue number 1, the first season "Full Broadside", will appear towards on 2022. The issue format will be A4, with about 40 pages in colour high end Marvel Style. Available in book trade, mail order and online retail for 9.95 euro.

Our "heroes" are named with their own names in all three seasons of the "Don Raffo" trilogy. Similarities in name, with people of normal, public life, are however purely coincidental and not intended.